// ABOUT US
FINOCIO IN THE GAMING SECTOR
FINANSOPORTES CONSULTING S.L. From now on, the FINOCIO brand has participated in the gaming sector since its inception in 2018 in which it was working on a first project with the aim of carrying out the creation of an electronic device that would serve as a dispenser of credits in different media ( CARDS, TICKETS, QR, and / or SMS, etc) for the gaming sector that eludes cash handling, anticipating the needs of said sector today.
PROTOTIPO ATMPROFSC01 Credit dispenser ATM model ATMPROFSC01 identified with patent U201831668 with publication number ES1223857, which will fulfill the function of issuing gaming credits, in different media either: cards with magnetic stripe, barcode / QR, or SMS.
ACUERDOS COMERCIALES CON EUROCOIN
Since then the possibilities of having both machines have increased a range of various functions. Both in the modality of granting playable credits through the different media such as recordable cards, barcodes or QR and SMS, to be able to exchange them through their corresponding readers in the gaming, betting and leisure operating machines. As at the same time that if a user does not want to continue playing, they have the possibility of obtaining their credits again, through the validation machine that will check the remaining balance for later return.
2018
FINANSOPORTES CONSULTING
FINANSOPORTES CONSULTING Foundation: Established with the main activity of other financial products.
October 2018
FIRST PATENT APPLICATION
ATM
His 1st patent for a Credit Dispenser ATM with No. US201831668 was requested before the OEPM.
2019
April 2019
FIRST PATENT GRANT
Patent grant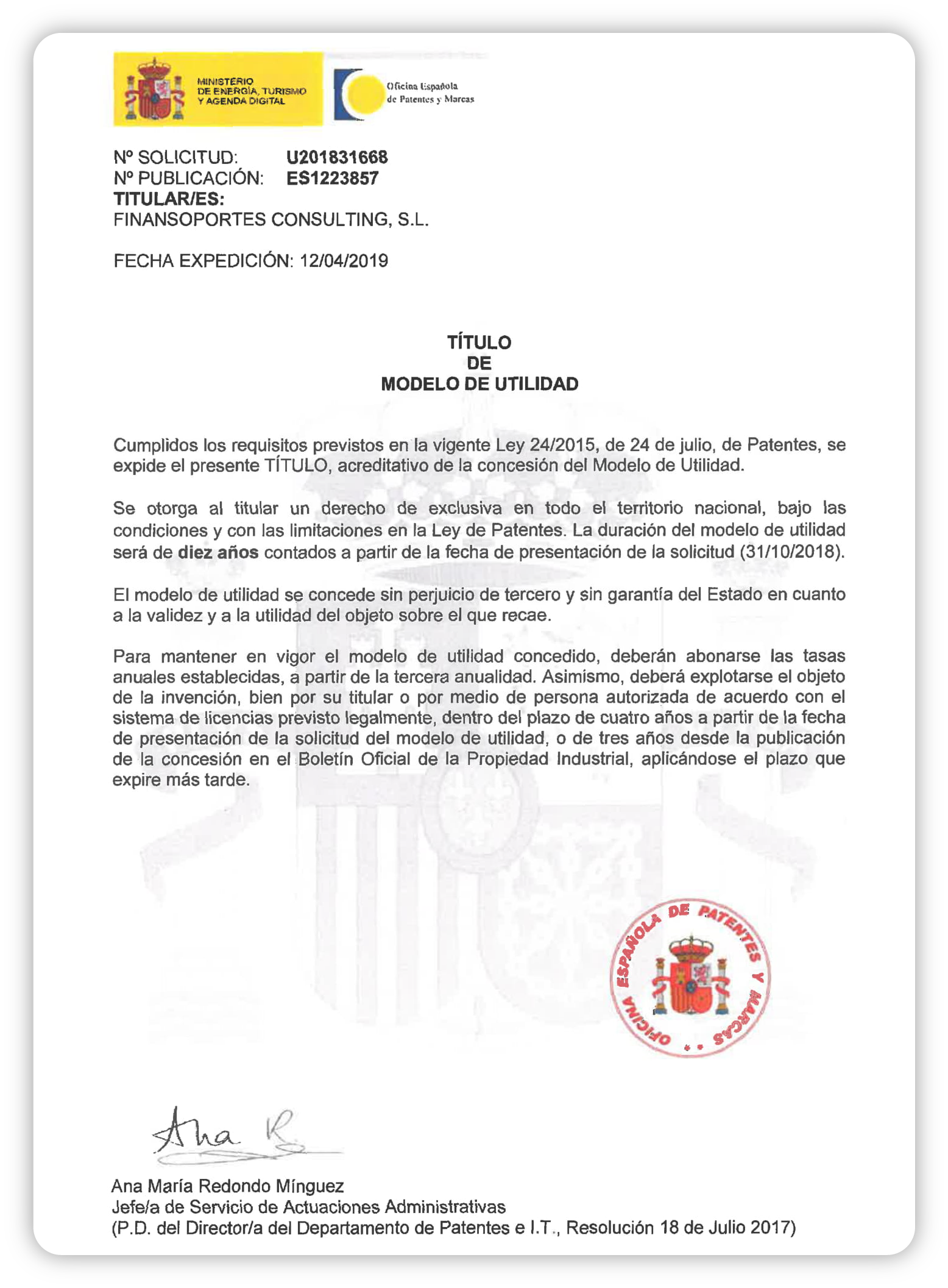 The TITLE certifying the concession is issued exclusively for a period of 10 years.
October 2019
SECOND PATENT APPLICATION
Card, Token, Codes and SMS Validation Machine.
October 2019, the 2nd Patent for Mode of Use was requested with number US201931654 before the OEPM. Published in B.O.E of Industrial Property dated December 12, 2019 ES1238584.
2020
February 2020
SECOND PATENT GRANT
Patent grant
the TITLE certifying exclusive concession for a period of 10 years. This machine was a great step since we provided the cashier with the viability of obtaining and returning the requested credits.